MATIC Technical Analysis: Is This A Must Buy Opportunity For Polygon?
🚀 Tip Me 🥰
The Polygon(MATIC) prices sustain above the 100-day SMA after a successful retest, teasing a potential rise to the $1 mark. Key technical points:
The MATIC prices jumped by 0.11% in the last 24 hours.
The market value of polygon sustains above the 100-day SMA.
The 24-hour trading volume of Polygon is $1.25 Billion, indicating a drop of 26%.
Past Performance of MATIC
Amid the recent recovery, the Polygon(MATIC) price has last breached the 100-day EMA and $0.75 resistance, providing a higher footing to carry forward this rally. However, in response to profit-booking from short-term trades, the price witnessed an 18.8% pullback, retesting the 100-day EMA.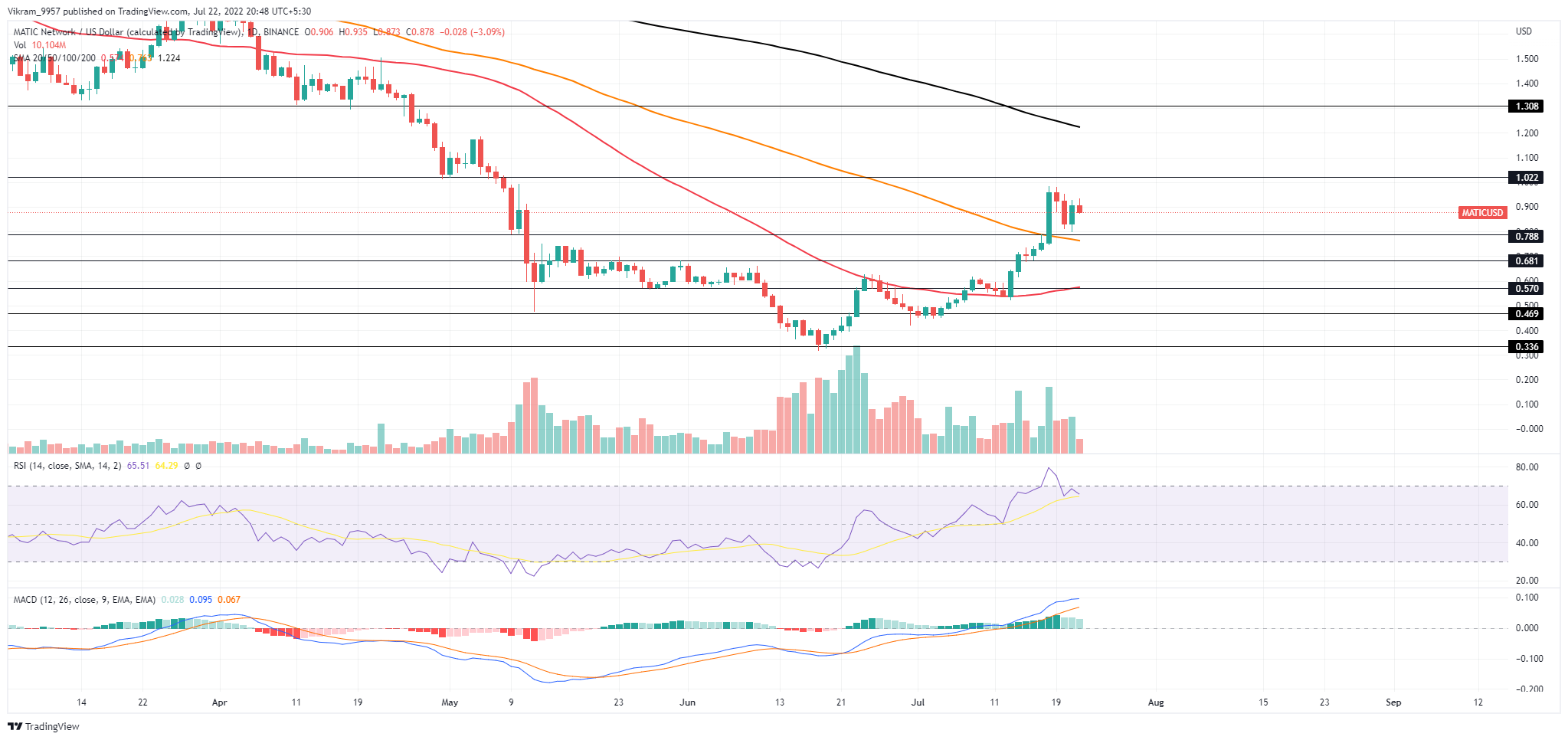 Source- Tradingview
MATIC Technical Analysis
Even though the MATIC price rebounded from the 100 EMA support with an inside candle, the buyers struggled to follow up this bull run, which displayed high-wick rejection and a 3% intraday loss. The RSI indicator shows a gradual increase in the underlying bullishness, with the RSI slope rising higher with the 14-day SMA. Hence, the technical indicator suggests a potential-jump above the psychological mark of $1. Furthermore, as the bullish histograms decline, the MACD indicator displays a spread loss between the fast and slow lines. Hence, the possibility of a bearish crossover in the MACD and signal lines increases. In a nutshell, the MATIC technical analysis projects weakness in the underlying bullishness, but the price action suggests otherwise.
Upcoming Trend
If the selling pressure persists, the coin price may experience a deeper retracement, possibly to the $0.75 to $0.62 mark. However, the expected pullback may provide a dip opportunity to acquire a MATIC again at a discounted price. The replenished momentum may continue the prevailing recovery, indicating a high possibility for Polygon price to break above the $1 psychological resistance. Resistance Levels: $1 and $1.30 Support Levels: $0.78 and $0.68