NFT Marketplace Magic Eden Reports $801M Trades in Q1 and Q2
🚀 Tip Me 🥰
Leading Solana-based NFT market Magic Eden has recorded a total of over 5.5 million trades worth over $801 million on its platform from January to June 2022.
Magic Eden Records $801M in Trade Volume
The total volume trades generated by Magic Eden in the first half of the year (H1) amounted to 18.24 million SOL, which is equivalent to over $801 million, according to current market prices.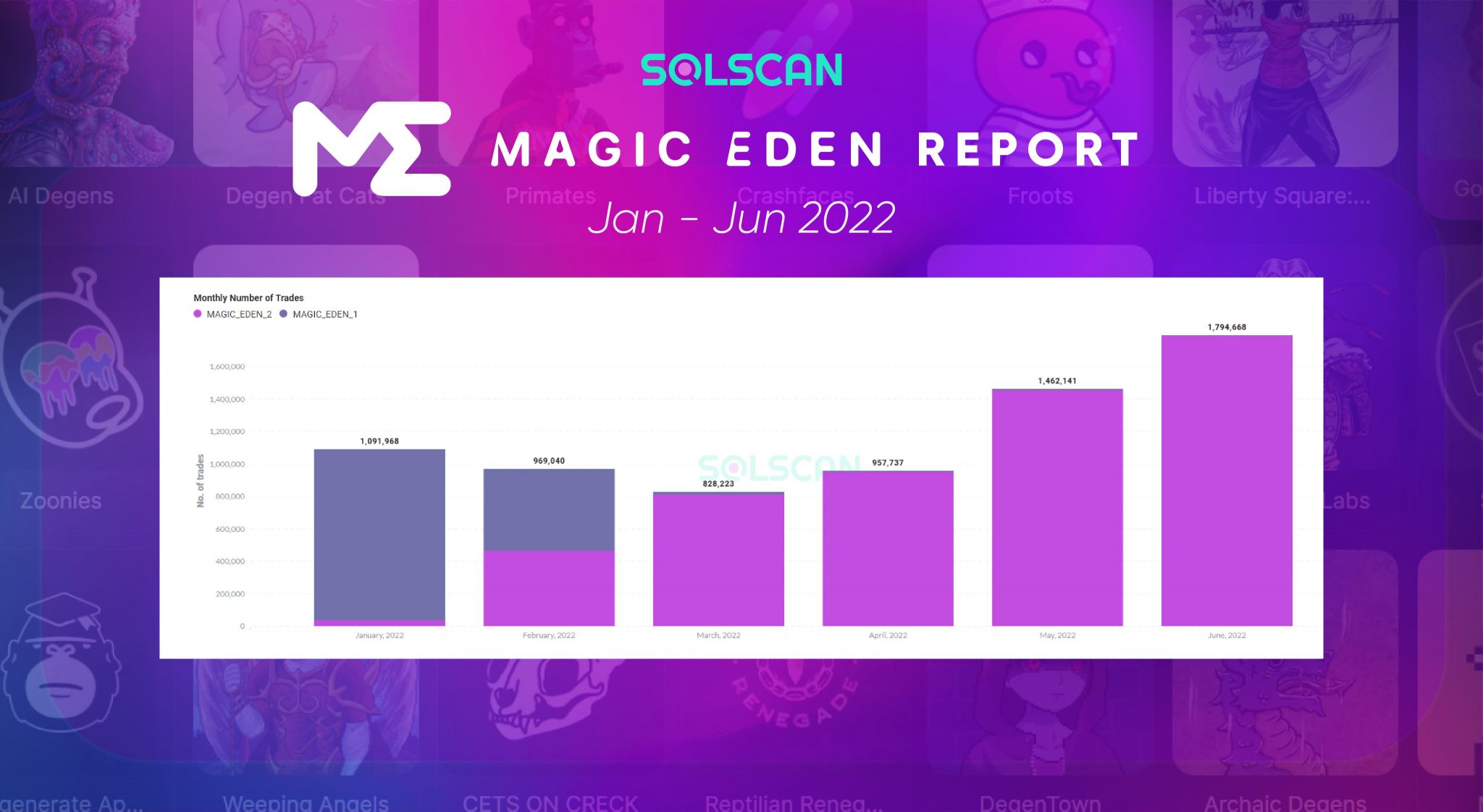 Source: Solscan 
From the chart above, it is noteworthy that the company saw a significant 53% increase from its value in April, garnering a total of 1.4 million SOL in May.
The new record is a milestone for the platform as it represents an impressive 81% increase from the total volume trades since the launch of the firm in September 2021. Currently, the total volume traded on the platform is around 22 million SOL.
It is noteworthy, however, that the value of SOL for the volume trades was much higher earlier this year when SOL was trading above $100. At the time of writing, SOL was trading at $44.
The Solana-based NFT marketplace further recorded a total of 20,933 non-fungible tokens (NFTs) collections listed on its platform with more than four million NFTs in H1.
Magic Eden kept seeing increases in market capitalization as the marketplace moved from a capitalization of 1.7 million SOL in January to a peak capitalization in May where it garnered a total of 4 million  SOL. Recall that the infamous Terra crash also occurred in May, causing a downtrend in the global crypto market.
However, June's severe bearish market trends pulled down the market capitalization by 35%, bringing it to 2.6 million SOL.
While the company recorded a peak number of active wallets in February, amounting to 1.1 million wallets, subsequent months in H1 recorded lesser active wallets. It reported over one million active wallets in May while June saw around 970 million active wallets.
Magic Eden Raises $130M in Series B Funding
Earlier last month, Magic Eden was able to raise $130 million in Series B funding, which was led by Electric Capital, Lightspeed, Greylock Partners, and others.
The fund was targeted at investing in other blockchains aside from Solana's network, as well as integrations of NFTs into blockchain games.