Robot Known for Outperforming Markets Eyes Ethereum, Solana, Hedera and One More Altcoin Amid Crypto Rebound
🚀 Tip Me 🥰
A robot that's garnered a reputation for outpacing the crypto markets is revealing its latest portfolio allocations as Bitcoin (BTC) and Ethereum (ETH) both start the week with positive momentum.
Each week the Real Vision Bot conducts surveys in order to create algorithmic portfolio assessments consistent with a "hive mind" consensus.
The bot's newest data finds that traders' risk appetite has increased slightly compared to last week, with most market participants voting to overweight their portfolios with 13 altcoins in addition to crypto stalwarts Bitcoin at 40% and Ethereum at 30%.
Tied for second with a 30% heavyweight allocation was Ethereum competitor Solana (SOL), decentralized application-creating protocol Hedera Hashgraph (HBAR), and layer-2 scaling solution Polygon (MATIC).
"Latest results of the Real Vision Exchange crypto survey. Participants are quite undecided about ranks #2 to #5.
1. Bitcoin 40%
2. Solana 30%
3. Hedera 30%
4. Polygon 30%
5. Ethereum 30%"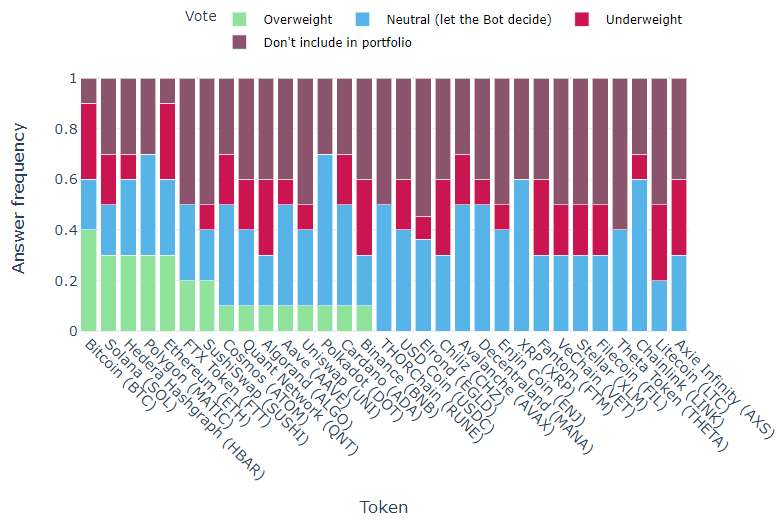 Tied for sixth place with 20% boosted allocations were FTX cryptocurrency exchange's FTX Token (FTT) and automated market maker SushiSwap (SUSHI).
Participants also voted eight other prominent digital assets as "overweight" by 10%, including interoperability ecosystem Cosmos (ATOM), enterprise-grade interoperability solution provider Quant Network (QNT), smart contract platform Algorand (ALGO), lending and borrowing protocol Aave (AAVE), decentralized exchange Uniswap (UNI), cross-chain interoperability protocol Polkadot (DOT), ETH challenger Cardano (ADA) and  Binance's native token BNB.
The latest survey-based exchange portfolio allocation is led by Polygon at 29.5%, both Hedera Hashgraph and FTX Token at 16.8%, and Polkadot at 14.7%. Tied at 7.37% allocation were Bitcoin, Solana, and SushiSwap.
The bot itself also compiles a portfolio on its own, and Real Vision highlights Polygon's popularity at a nearly 48% weighting.
"Yesterday's rebalancing of the Real Vision Exchange crypto portfolio. The Exchange moves out of Ethereum and ramps up MATIC, FTT, HBAR, and Polkadot.
The Bot, known for being a maximalist, fell in love with the Polygon blockchain."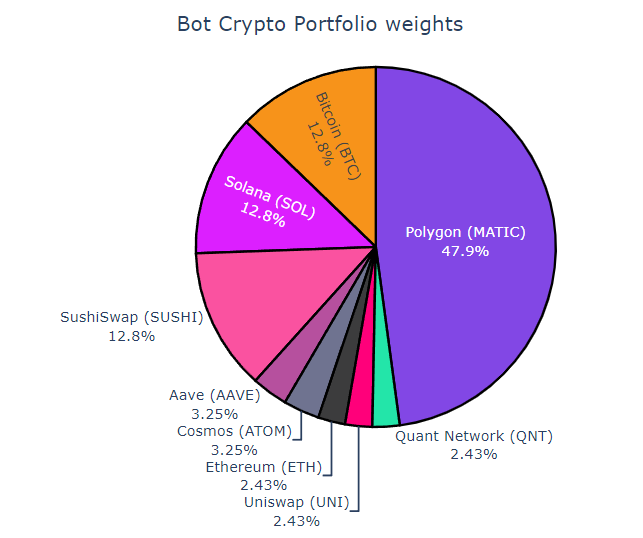 The Real Vision Bot was co-developed by quant analyst and hedge fund CEO Moritz Seibert and statistician Moritz Heiden.
Real Vision founder and macro expert Raoul Pal has called the bot's historic performance "astonishing," saying it outperforms an aggregated bucket of top 20 crypto assets on the market by more than 20%.